Charlotte Fogh Gallery
Locker Room Summer Salon
22 June - August 2018
group exhibition

Horsens Kunstmuseum
Salon des Refusés
10 March - 19 August 2018
solo exhibition
Søby, Ærø
SSS2018 biennalen
curated by Susan Hinnum
1 June - 1 September 2018
group exhibition

R2 Galleri, Bornholm
Plateau I
curated by Henriette Noermark
8 June - 6 July, 2018
group exhibition
Heltborg Museum
Ks Jylland
15 June - 26 August 2018
group exhibition
Ks Jylland

Sakskøbing Sukkerfabrik
Lys over Lolland
17 - 26 august, 2018
group exhibition

...........................

Kunsthal Nord
Power Plant
4 Mai - 24 June 2018
with Antonia Low and (GB/DE), Stella Geppert (DE)
Kunsthal Nord


Residency
Statens værksteder for kunst
Turboladen
2 Feb - 25 April 2018
Charlotte Fogh Gallery
Locker Room
23 March - 3 Mai 2018
group exhibition
............................................................................................................................................................................................................................... 2017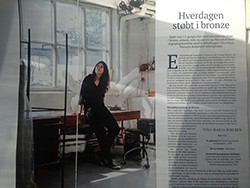 Børsen 10 august - Newspaper. Portrait written by Henriette Noermark

. . .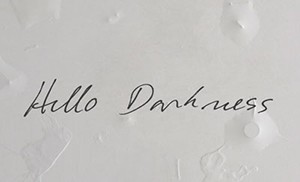 HELLO DARKNESS
Tina Maria Nielsen
Solo show
Esbjerg Kunstmuseum
16 June - 10 September, 2017
P1 eftermiddag DR
Bo Bedre, august - Magazine. by Lisbeth Bonde
KUNSTEN.NU - review

. . .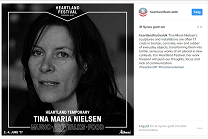 HEARTLAND
Heartland Festival 2017 - Art Programme
Egeskov Castle, Funen
June 2 - 4 2017
Curated by Henriette Noermark
YOUTUBE

. . .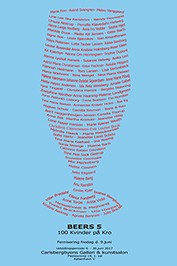 BEERS
Group show
Carlsbergbyens galleri of kunstsalon, Copenhagen
9 - 30 June, 2017
Curated by Melou Vanggaard

. . .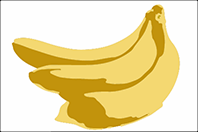 ENGROS
Group show
Grønttorvet, Valby, Copenhagen
19 Mai - 22 June, 2017
KUNSTEN.NU
IDOART
KOPENHAGEN
KUNSTKRITIKK

. . .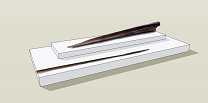 RESONANS
Public sculpture at Strandengen, Køge
Commissioned by Arkitektgruppen and Køge Kyst
Launch May 31, 2017

. . .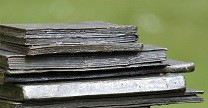 GENERATIONS
Public sculpture at Nyager Skole, Rødovre
Commissioned by Rødovre Municipality
Launch April 19, 2017

. . .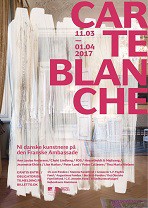 CARTE BLANCHE
Ann Louise Andersen, Choki Lindberg, FOS, Hesselholdt & Mejlvang, Jeannette Ehlers,
Lise Harlev, Peter Callesen, Peter Land, Tina Maria Nielsen.
Ambassade de France, The Thott Palace, Copenhagen
11 March - 1 April, 2017
Curated by Natalia Gutman

Exploring the Embassy as a phenomenon, the artists seize upon subjects such as the shared history between France and Denmark, the essence of democracy, and the challenges we currently face. The works are specifically created for the Embassy and enter into a dialogue with the surroundings. Some works inspire gravity while others are humorous, sensual and emphasizing our physical presence in the old stately drawing rooms.
Press:
Review: Kunsten.nu
Coverage: Radio24syv (44:00 mns in)
Coverage: Elle
Feature: I Do Art

. . .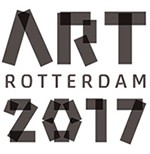 ART ROTTERDAM
Charlotte Fogh Gallery
8 - 12 February, 2017

............................................................................................................................................................................................................................... 2016



Decembristerne
Group show
Den Frie, Copenhagen
25 November 2016 - 8 January, 2017
The artist association Decembristerne does not represent one particular direction in art, but is characterised by artistic individuality. Distinctive modes of expression and investigations into key human values characterise the artistic expression of the members of the association.

. . .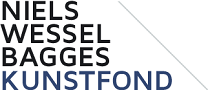 GRANT OF HONOR, Niels Wessel Bagges Kunstfond
30 November 2016
This year's grant recipients all demonstrate a strong artistic practice, enjoy national recognition and have an international focus.
- NWB Art Foundation
Press:
Coverage: Kopenhagen
Coverage: Kunsten.nu

. . .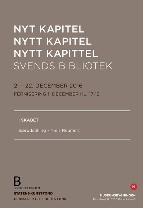 NYT KAPITEL / NYTT KAPITEL / NYTT KAPITTEL
Group show
Banja Rathnov Galleri & Kunsthandel, Copenhagen
2 - 22 December, 2016
Curated by Svends Bibliotek
Nyt kapitel / Nytt Kapitel / Nytt Kapittel is a presentation of artists' books, the main emphasis being on book objects and unique pieces created by more than 100 artists from across Scandinavia.

. . .

BLACK/WHITE'ISH
Group show
Charlotte Fogh Gallery
2 December - 14 January 2017
The black-white is the theme of the last show this year at Gallery Charlotte Fogh. The exhibition features 25 international and Danish artists, all working with different expressions and media, but with the black and white as recurrent term.

. . .





Skulpturlandsby Selde 2016/ En platform for skulpturforsøg i det offentlige rum
Group show
The town of Selde, 18 September - 17 December, 2016
Curated by Marianne Jørgensen
12 artists have been invited specifically to create sculptures in situ, cast in aluminium.
Press:
Reportage: Kunsten.nu

. . .





DOMINO - KS Jylland i SAK
Group show
Svendborg Amts Kunstforening
22 October - 20 November, 2016
Domino is a dogma or rule imposed on the participants as a mutual challenge. Each of the artists has been allotted a room which needs to connect to adjoining rooms via the exhibited art works. This may be through a specific subject, a narrative, materials, mode of expression or something else. The exhibition is about perceiving and reflecting across different spaces.

. . .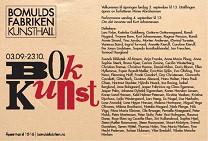 BOKKUNST
Group show
Bomuldsfabriken Kunsthall, Artendal, Norway
3 September - 23 October, 2016
Curated by Svends Bibliotek
The exhibition Bokkunst is a tribute to the book as a concrete object, as medium and communicator of information, and to the craftsmanship and the artists behind. The exhibition presents artists' books, original book illustrations, handmade books and books used in installation works and performance pieces.

. . .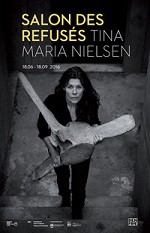 SALON DES REFUSÈS
Solo show
Den Frie Udstillingsbygning, Copenhagen
18 June - 18 September, 2016
The 'rejected', as title and theme for this exhibition, can be seen in continuation of Tina Maria Nielsen's objective to erase the boundaries between reality and conception. Tina Maria Nielsen takes as her starting point the concrete isolation of the exhibition space - situated underground, beyond the realms of daylight. Here we hide all those things which do not fit in or belong in the staging of our lives: Things, we are somehow attached to, historically or recollection-wise. Symbolically and historically the basement is a hideaway and a storage space, but it is also a place for contemplation.
Press:
Review: Rune Gade, Information 23 July 2016
Review: Mette Sandbye, Weekendavisen, 5. august 2016, Salon de Refuses
Review: Mai Misfeldt, Kunsten.nu 20 Aug 2016
Interview: Frida Kuhn Nicolaisen, Kopenhagen 7 Sept 2016
Article: The work process on SVK/Danish Art Workshops
Interview: Vimeo, by Erik Nørgaard Gravesen
Review: Mathias Belli, Magasinet Kunst

. . .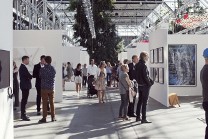 Code Art Fair, Copenhagen
Charlotte Fogh Gallery
26 - 28 August, 2016

. . .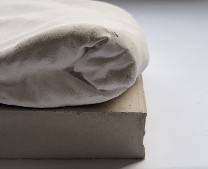 Itch under the Skin
Group show
Charlotte Fogh Gallery
16 April - 21 May, 2016
Itch under the Skin highlights a selection of the many talented artists who have exhibited their work at Charlotte Fogh Gallery over the last decade.

. . .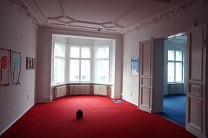 La Maison Rouge + Bleu
Group show
Wohnung Rot und Blau, Chausseestrasse 5, 19115 Berlin / Mitte
16 - 17 January, 2016
Curated by Vibe Bredahl

In 1973 Albert Mertz created the book La Maison Rouge + Bleu at Atelier Clot in Paris. A book work containing colour lithographs and published in an edition of only 200 copies. The book has inspired 30 Danish artists to exhibit red and blue art works in a distinctive Berlin apartment featuring red and blue floors.

. . .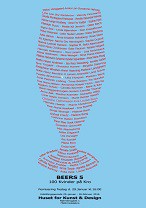 Beers 5 – 100 Kvinder på Kro
Group show
Huset for Kunst og Design, Holstebro
29 Januar - 12 February 2016
Curated by Melou Vanggaard
'BEERS 5 – 100 women in a pub' marks the centennial of Danish women's right to vote. The artists all respond to the theme of BEERS - interpreted in quite unique ways.

. . .



Art Herning
Charlotte Fogh Gallery
29 - 31 January, 2016

............................................................................................................................................................................................................................... 2015

Beers 5 – 100 Kvinder på Kro
Group show
Byens Kro, Møntergade 8, Copenhagen
24 September – 25 October 2015
Curated by Melou Vanggaard
'BEERS 5 – 100 women in a pub' marks the centennial of Danish women's right to vote. The artists all respond to the theme of BEERS - interpreted in quite unique ways. The exhibition is mounted in the manner of a salon on the black walls of Byens Kro using curious artifices.

. . .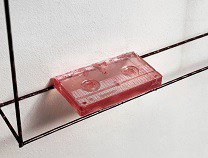 KVINDER
Group show
Horsens Kunstmuseum
5 June - 27 September 2015
This year's summer exhibit at Horsens Kunstmuseum takes as its starting point the celebration of the centennial of Danish women's right to vote. The exhibition thus presents works by female artists represented in the museum collection.

. . .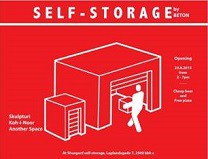 Self-storage
Group show
Shurgard, Laplandsgade 2, Copenhagen
23 August – 13 September 2015
Arranged by BETON
Under the title 'Self-storage' the exhibition space BETON has invited the three 'homeless' project spaces Skulpturi, Koh-I-Nor and Another Space to each curate a temporary storage space at Shurgard Self-Storage in Amager. Self-storage is a thematically open adaptation of interrelations, city spaces and economical structures in the age of the project society, inspired by the conditions governing the Danish art scene.

. . .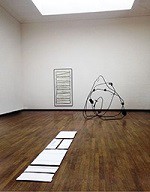 Vrå-udstillingen
Group show
Kunstbygningen i Vrå, Vendsyssel
1 August - 30 August, 2015
Tina Maria Nielsen visits the artists' association Vrå-udstillingen, which presents its annual August exhibition in Kunstbygningen.

. . .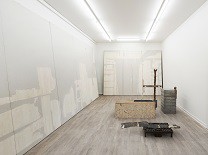 NOT AT HOME
Group show
Viborg Kunsthal, Viborg
8 Maj - 16 August, 2015
Curated in cooperation with Skulpturi
The exhibition presents a habitat where various works are created for the specific situation at a specific place and find a common form to "live" in for a while. A situation that is emerging ways of relating to other people, space, time and place.

Documentation:
Images: Skulpturi
Press:
Review: Kunsten.nu

. . .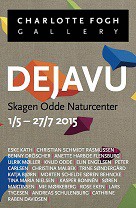 DEJAVU
Group show
Skagen Odde- og Naturcenter, Skagen
1 May - 27 July, 2015
Curated by Charlotte Fogh
Facebook
The exhibition DEJAVU presents 21 Danish artists, who in line with the Skagen Painters work with classical motifs such as nature and everyday life.
Press:
Review: Kunsten.nu

. . .



Grønningens 100 års jubilæumsudstilling
Group show
Den Frie og Museumsbygningen, Copenhagen
7 March – 12 April, 2015
Tina Maria Nielsen visits one of Denmark's largest artists' associaton as it marks the centennial of its foundation. 40 members and 6 invited guests show their latest works.
............................................................................................................................................................................................................................... 2014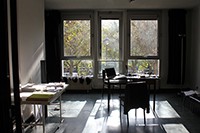 Residency
Cité Internationale des Arts, Paris
3 October - 29 December, 2014

. . .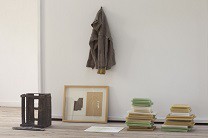 MELLEMVÆRENDER
Group show
Munkeruphus, Dronningemølle
21 September - 30 November, 2014
Curated by Line Kjær and Skulpturi
The exhibition presents works by the artists cooperation SKULPTURI, which since 2007 has been behind more than 40 exhibitions presenting their own works and works by other sculptors, thus asserting the cooperation as a significant institution when it comes to the various potentials and expressions of the medium of sculpture. Munkeruphus has invited SKULPTURI to populate the former studio and home of Danish artist Gunnar Aagaard Andersens using various sculptural objects, which reveal the breadth of the working methods and materials employed by the individual members, and also identify the mutual and constant insistence on challenging and rethinking the concept of sculpture.

. . .



APOLOGI
Group show,
Kunstnersammenslutningen Jylland
Kunsthal Aarhus, Aarhus
15 August – 14 September, 2014
The exhibition Apologi presents works by 22 artists from the Artists Associa­tion Jylland, whose first exhibition took place in Aarhus Art Building in 1978. Looking back at its initial artistic, social and collegial foundation, the association considers whether there is still a basis for creating artistic tension within the organisation. With the title Apologi, originating from the Greek word apologia, meaning justification or defence, the exhibition states the importance and relevance of artist-led organisations that provide an alterna­tive democratic space with room for artistic freedom.
Documentation:
Images: Kunsten.nu

. . .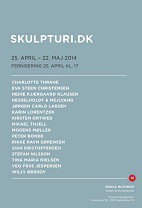 SkUlpTuRiMuSeUmsByGniNgEn
Group show and Book launch Skulpturi 2007-2012
Museumsbygningen, København
26 April – 22 Mai, 2014
SKULPTURI has no permanent residence, but continue to challenge and explore the sculpture as a spatial medium. Museumsbygningen has no windows, but plenty of overhead light as well as an air of classical museum. By working with a structure, in which all works relate to the floors and in which the walls sesrve as projection surfaces for the sculptures, the exhibition is dedicated to the beforementioned qualities of Museumsbygningen.
Press:
Review: Politiken
Review: Kopenhagen

. . .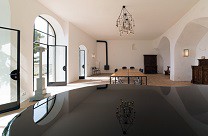 Residency
San Cataldo Monastery, Italy
14 - 28 April, 2014

. . .

Polyfoni ll
Group show
Galleri Thomas Wallner, Simris, Sweden
22 March - 26 April 2014
147 artists present more than 500 art works in a small format.

. . .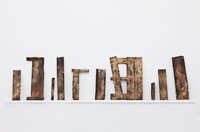 Hver og én /Each and every one
Solo show
Charlotte Fogh Gallery, Aarhus
21 March – 19 April, 2014
Tina Maria Nielsen's works are based on the everyday objects that surround us. The sculptures are made of things from her studio or just outside, and the world at large becomes visible through sockets, piles of books, a frayed wooden pole, a pruned apple tree, or the remnants of a fruit crate she creates 1:1 in bronze or wax. In the exhibition "Each and every one" focus change from the specificity towards the general.
Press:
Coverage: Kunsten.nu

. . .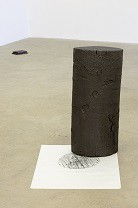 BEGINNINGS AND ENDS
Tina Maria Nielsen & Eva Steen Christensen
Kunstverrein Buchholz, Germany
2 March – 3 April, 2014
'Beginnings and Ends' brings to the materials a poetic sense of transience.

. . .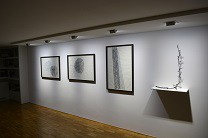 Paper: Cuts, Embroideries and Frottage
Group show
Galleria Effearte, Milan, Italy
6 Febuary - 18 April 2014
Press:
Coverage: WakeUpNews
Coverage: CB Cornici

. . .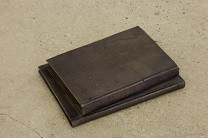 I AM YOU ARE
Solo show
Galleri Thomas Wallner, Simris, Sweden
11 January - 15 Febuary 2014
The Danish artist Tina Maria Nielsen's minimalist and textural pieces appear in the area of tension between the visual, the physical and the linguistic; media intermix and influence on each other. What may seem completely prosaic, logical or trivial is suddenly challenged by the interaction with a body or by recollections or a language filled with associations and endless meanings. I AM - YOU ARE revolves around item-making - the 'cohesive' meeting between two beings reflecting each other, taking each other's form or 'clarifying' eacher other through a adversarial relationship.
Press:
Coverage: Kunsten.nu
Review: Ystads Allehanda

. . .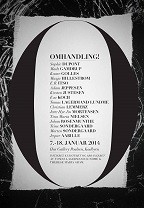 OMHANDLING
Group show
Galleri Poulsen, Copenhagen
7 January - 18 January 2014
Curated by Tomas Lagermand Lundme and Therese Maria Gram
Facebook
'Omhandling!' urges the participating artists to 're-act', reorganise og recreate an art work. It may be a modification of an early work (either ones own or someone else's) or a work one feel has been overlooked - or whatever comes to mind. Either way, it should be an already existing piece.

. . .

ZEIGEN - an audiotour through Copenhagen
Group project
Nikolaj Kunsthal, Copenhagen
16 November, 2013 – 26 January 2014
A project by artist Karin Sander, curated by Andreas Brøgger and Michael Thouber
The exhibition 'ZEIGEN. An Audio Tour through Copenhagen' by Karin Sander brings together more than 150 artists associated to Copenhagen. The internationally renowned German artist Karin Sander has invited each of them to produce a sound piece, any kind of sound, description, reading, music or whatever that would translate their work or working process into sound and make it "visible".

............................................................................................................................................................................................................................... 2013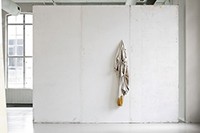 SKIN OF MINE
Solo exhibition
Brandts Kunsthal, Odense, Denmark
21 June - 15 September 2013
Tina Maria Nielsen is preoccupied with space and a physical and abstract setting for the sculptural form. Her minimalist, narrative and architectural grasps point out the specific characteristics of Kunsthallen Brandt's industrial facilities. The previous factory space thus serves as a dialogue partner, and Tina Maria Nielsen accentuates new and overlooked apects of the ceilings, walls, flooring and windows. It's all about interfaces - the skin as a membrane between an outer and an inner space, between a form and its surroundings.
Press:
Review: Kunsten.nu

. . .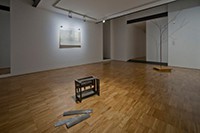 LOOKING FOR SOMEWHERE
Solo exhibition
Galleria Effearte, Milan, Italy
16 Mai - 13 September 2013
Press:
Coverage: Artribune
Coverage: Espoarte
Coverage: CB Cornici

. . .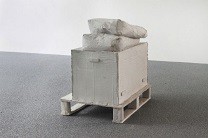 Pluralistisk panorama
Group show
Vestjyllands Kunstpavillon, Videbæk
13 April - 26 Mai 2013
Curated by Skulpturi
'Pluralistisk Panorama' has been installed in an enclosed space and focuses on the concrete space plan defined by the floor. The works, no more than 1 m tall, in that way form a landscape, a surface containing nine buddings, which the viewer can pan across.
Press:
Coverage: Kunsten.nu

. . .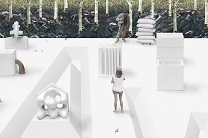 AW!, Marianne Jørgensen
Group show
Den Frie, Copenhagen
12 April - 19 Mai 2013
Since 1997 Marianne Jørgensen has been involved in locally anchored projects in the environs of Viby, close to her home. The projects include 'love alley' and 'Aw!', both presented in the exhibition at Den Frie in the form of models and video works. 'Aw!' takes as its starting point the concept of "das unheimliche", which means the uncanny or un-homely. 25 artists and architects, among them Tina Maria Nielsen, have been invited to participate. They have created sculptural and text-based works, which all relate to "das unheimliche" within the discussion of types of dwelling and homeliness.
Presentation

. . .

Polyfoni
Group exhibition
Galleri Thomas Wallner, Simris, Sweden
23 March - 28 April 2013
145 artists showing more than 500 works of art

. . .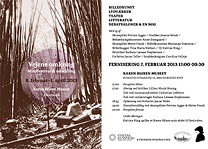 VEJENE OMKRING
Group show
The Karen Blixen Museum, Rungstedlund, Denmark
7 Febuary - 31 March 2013
Curated by Barbara Læssøe Stephensen
Facebook
10 female artists, each representing the best within their artistic profession, have together created the mini festival 'Vejene omkring' to focus on the narrative and life historical points in the writings of Karen Blixen. Through a show of works and live events 'Vejene omkring' revolves around Blixen and when and how we create our own narrative.
Press:
Coverage: Hørsholm Lokalavis
............................................................................................................................................................................................................................... 2012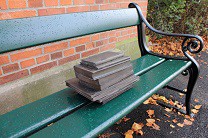 The Reading group
Public commission
Friday 5 October 2012, 4-6:30 PM
FABRIKKEN for Kunst og Design,
Sundholmsvej 46, 2300 København S
Arranged and commissioned by Sundholmskvarterets Områdeløft
'The reading group' is an art project consisting of eight Copenhagen-based city benches, each with its own book sculpture. The books have been donated by the citizens and institutions in Sundholm, and subsequently been cast in bronze. Besides reflecting the diversity of the neighborhood, the sculptures celebrate literature and the stories and knowledge we all hold. The book benches have been installed around the area.
Press:
Coverage: Magasinet KBH

. . .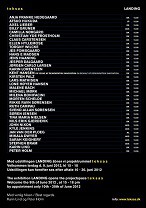 Landing
Group show
Project space t e k s a s
9 - 30 June, 2012

. . .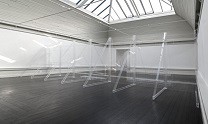 RUNDTENOM
Group Exhibition
Den Frie Udstillingsbygning, Copenhagen
21 April — 3 May, 2012
Opening 20 April 5-8 PM
''Rundtenom' presents works by the artists' association SKULPTURI. Expanding and testing the concept of sculpture is a mutual interest of all participants, and they all work in the borderland between traditional sculpture and other art forms: architecture, installation, design, landscaping, even interior design. The sculptural work is process oriented and preoccupied with the materials and their potential to create meaning beyond the scope of language. Often elements from everyday life is included as well as a focus on body and space. The title of the exhibition points to the basic quality of the (classical) sculpture: that it is possibly to walk around it and experience the objects with your body, but in its reference to the daily living (the bread) it also indicate that the configuration of the sculptural material is rather hard physical work.
Press:
Review: Kunsten.nu
Interview: Information
Interview: Kopenhagen Artguide

. . .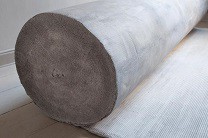 DOBBELTSYN
Tina Maria Nielsen & Michael Mørk
Clausens Kunsthandel
14. januar — 18. februar 2012
In 'Dobbeltsyn' Tina Maria Nielsen and Michael Mørk enter into a dialogue with each other and the physical and historical space. In works accommodating and challenging our ideas and concepts of art and reality, they engage painting, photography and sculpture. In one room we find a plaster cast of a large coiled up roll of corrugated paper. A rather overlooked and bashful utility item has been raised out of its everyday sphere and brought into the art space. Tina Maria Nielsen hereby questions the solidity and constancy of the form and the solid material versus a fragile condition. The title 'Dobbeltsyn' which refers to an optical phenomenon caused by a disruption of our ability to focus here becomes a metaphor for looking and establishing an image of reality.

. . .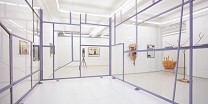 FIELTFALT
Thomas Bang, Torben Ebbesen, Morten Stræde, Jørgen Carlo Larsen,
Ane Mette Ruge, René Schmidt, Tina Maria Nielsen, FOS
Galleri Lars Olsen
26 November 2011 - 7 January 2012
Press:
Review: Kunsten.nu