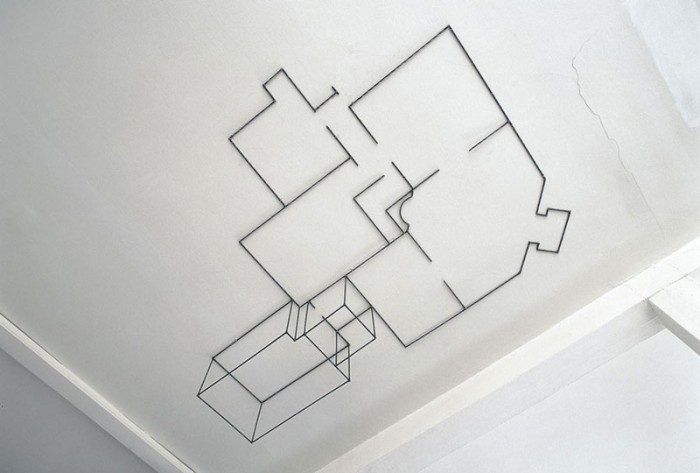 LAYER 3, INTERIOR, 2002
Hauser Plads, Copenhagen

Photo: Anders Sune Berg

The work Inner Room Outer Space consists of two parts: A floor plan of the artist's apartment, onto which are welded two other plans, which has then been attached to the ceiling. Beneath there is a life size hammock-like construction of bent steel pipes. From a drawing in space to something that looks more like a heap or substance it questions 2- and 3-dimensionality. A drawing stands upright and becomes spatial. Here the dream of extra space is unfolded. The legume that seems shaped by a body is a kind of metaphor for dream and reclusion. The inner and the outer spaces merge as hinted to by the 3-D drawing in the ceiling that seems meant to be gazed upon from the hammock.
The open window is a recurrent motif in the history of painting; Through the window (the divine) light and the outside world enter our rooms. The window in A Streetcar named Desire opens up toward us, but no one is looking in at us. The viewer has to accept the role of co-creator. A cast video tape has materialised the moving images into one piece. The representation of existence in time is replaced by one of existence in a space.
In the film A Streetcar named Desire – a film that is all about the struggle between our lust and our desires on one hand and civilization and convention on the other - Marlon Brando plays his part with total physical presence, and Vivienne Leigh plays hers with prudence and repressed longing.